In its desert setting that touts exceptional outdoor recreation options and therapeutic hot mineral baths, Truth or Consequences also offers rewarding experience in the arts history and of course dining. Adventuresome travelers along the Rio Grande corridor between Albuquerque and El Paso who exit Interstate 25 for exploratory excursions have long ago discovered Los Arcos restaurant. The steak and seafood establishment should, in fact, be included in your list of destination restaurants.
The steaks are aged and trimmed by the restaurant and the staff bakes fresh bread daily. Australian lobster tails and Alaskan king crab are offered and served in combinations with the steak. Specialties include mesquite-smoked Baby Back Ribs with orange pecan barbecue sauce and the charbroiled Filet Monte Vista topped with green chile and Mornay sauce. Seafood and fresh water options include herb-butter catfish, Indonesian shrimp and Walleye Pike, deep-fried in beer batter and charbroiled Almondine or Cajun style.
The bar offers an extensive list of beer, wine, liqueur, cognac and coffee specialties. The bar and patio are popular as a gathering place for friends, and handles overflow from the restaurant.
As with any establishment that has stood the test of time, consisitency, quality and service are essential ingredients to its success. In the case of Los Arcos, the warm, relaxed atmospherre and personal attention from the management team are also key elements. Incidentally, all employees are listed on the menu as managers.
Bobby, owner of Los Arcos is a Truth or Consequences native, or more correctly, a native of Hot Springs. Bobby is also a major owner of the Monte Vista Fire Station and Owl Cafe in Albuquerque, as well as the Rex in Billings, Montana.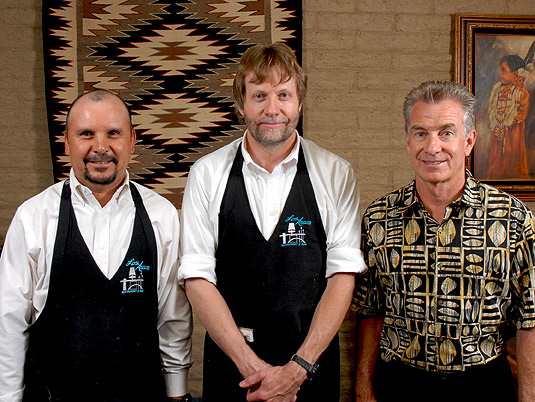 Left to right: Ernie Lucero, William Moyers, and Bobby Middleton